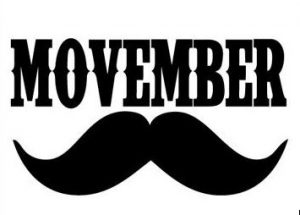 Movember
Summer is nearly upon us and, in addition to the re-emergence of cricket, tennis and the beach, there has been a noticeable increase in the hairy upper lip; the Mo's have grown, and it's time to tackle some issues that we simply don't address usually.
At Seven Hills Family Doctors we are committed to the goals of Movember and helping your father, brother, partner, son – too many men are dying too young. Too many are living and "battling on" alone and not seeking help. Too many are struggling with the fallout from treatment and/or the bewildering treatment choices for a cancer diagnosis. As outlined by the Movember Foundation:
Prostate Cancer
It is predicted by 2030 there will be 1.7 million men living with prostate cancer. It kills hundreds of thousands of men each year.
Testicular Cancer
The most common cancer in men under 40 it has a good prognosis if detected early but 1 in 20 men die.
Mental Health and Suicide
The statistics on suicide are stark – while rates remain high around the world, three out of four suicides are men.
What can be done?
At Seven Hills Family Doctors we subscribe to the philosophy of optimising wellness as well as managing and treating disease. We advocate taking control of your health and looking after yourself. As the Movember Foundation promotes:
Check in regularly with friends and family: making the effort to staying connected benefits you and the people you interact with;
MOVE! one of the best things you can do for your physical and mental health is maintain some form of physical exercise;
Talk about the big stuff in life: we go through big moments – becoming a father, financial worries, the breakdown of relationships – and it's important to realise the impact of these and discuss how you're coping;
Knowledge is power: when it comes to assessing your risks of certain cancers and other diseases your family history is critical. At Seven Hills Family Doctors we can recommend the appropriate cancer screening and cancer investigations based on your known risk factors – of which an important one can be family history.
Importantly, if you notice something, do something
"I thought it'd be right", "I've never really been sick before", "I thought it would go away".
If you know something isn't feeling right, we recommend not putting it off – early detection can dramatically change the treatment and prognosis. If you think there could be a problem please book in and get it checked out.